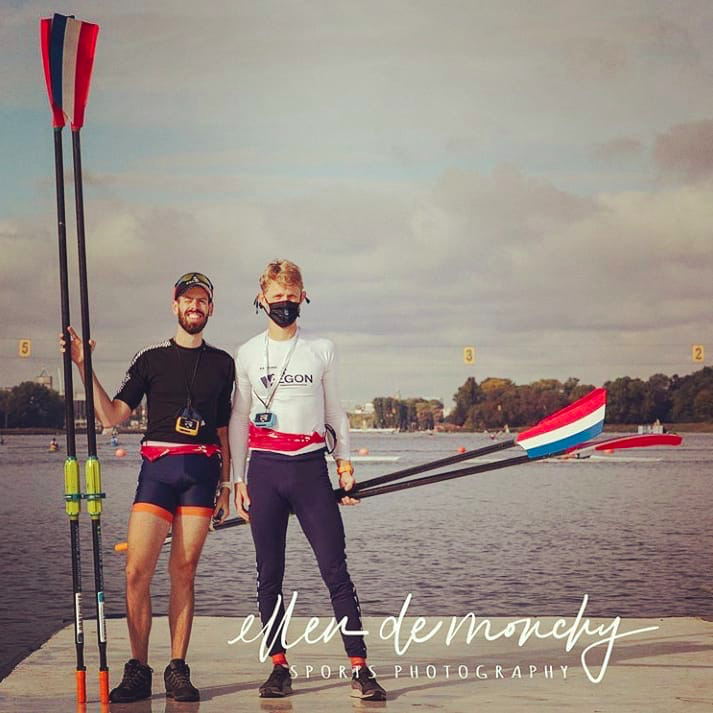 Can you first tell me a little more about yourself, professional and academic commitments? 
I'm 28 years old ('92), rowing since my 11th birthday and competing internationally since I was 17. I grew up in Thailand, Great Britain and Ypenburg (near Delft) and got my master's degree in Strategic Product Design at the faculty of industrial design engineering at the TU Delft in December of 2019. During my master's degree, I've focussed on how to implement the methods and learnings from industrial design engineering into the field of water (management/treatment/biodiversity etc.). I currently work in a government organisation aiming at managing, providing and cleaning water in a large area in south-west of the Netherlands. I manage early-stage projects on energy neutrality and innovation. I find my job very interesting and I look forward to committing fully. 
Tell me about your rowing career?
I started rowing when we moved to the Netherlands. Initially, I was very small and didn't enjoy rowing, but once I grew and gained the capability to compete better everything escalated very quickly. I joined Proteus Eretes when I started university and took the first year to gain some footing as a student. In my second year, I went to the U23 world championships in a lightweight quad, finishing 6th, year after that 3rd in the lightweight double year after that 2nd. We were adopted into the lightweight men's team to strengthen the lightweight four, as there was a very secure double already training. Unfortunately, I fractured and broke a rib 3 weeks before the first world cup in 2016, dealing a final blow to any possibility of me competing at the Rio Olympics. I finished the 2016 season in the single skull, and took time for my studies end 2016. The federation was willing to make a lightweight double for 2017 and with one of the guys from the four we combined and tried unsuccessfully. We both stepped away from the federation after funding fell away for the lightweight double. I finished some more studying end of 2017 and rolled into a lightweight quad in 2018 winning a bronze in Lucerne and a bronze at the European Championships. The next year I joined my current doubles partner in Leiden. We decided to give a double a shot 2018-2019, we took the winter to prepare the double but after an unsuccessful race in Duisburg the federation decided it would not grant us permission to race internationally and rather have us in a quad. We pulled together a quad in 8 days and won silver at the European Championships in Lucerne in 2019, later that year we raced for a bronze at the World Championships. Moving away from the quad we still had the ambition to make a double, even though the qualifications at the worlds had fallen away. We adopted the Randall Foils in the winter and were preparing to race the first world cup in 2020 when the Corona virus messed up the whole shebang. In lockdown we took our time to increase our fitness outside of the boat and steadily grew back into the double for the European Championships. A trial was raced against a u23 double with talented individuals, won by us. We raced the European Championships using Randall foils last week and came 3rd in the B-Final.
Do you have a plan for Tokyo 2021 or Paris 2024?
The dream goal for European Championship was to row a top 5 position. That would have granted us funding from the Dutch Olympic organisation. However, no big surprise, the lightweight men's double is an incredibly competitive field and for our first race well over a year we didn't manage to pull the rabbit from the hat in the semi-finals. Our performance in the B-final was decent, but it leaves us with the question, how are we going to find 4-6 seconds in the comping 6 months, without NED Federation funding. We have some idea's on how to do this. On Paris 2024 I don't have too much to say. It very likely lightweight rowing will be a thing of the past, and I feel that its time to start a career too.
How did you first hear about the foil design?
I saw Martino rowing with them at the Poznan and at the World Championships. A little later a fan of our project offered us a few sets to try. Ward (my current doubles partner) saw a lot of increased speed and considering Martino was World Champion we figured it was at least unlikely to slow us down.
What was your initial reaction when you first tried foils?
I didn't like them initially. They didn't fit my rowing style especially well and personally I gained only a little speed in steady-state. However, my partner's speed improved greatly and the double was also a different story. I believe the foils provide a lot more grip during the first part of the stroke, for instance, our starts in Poznan were extremely fast, something we previously not especially good at. I suspect the biggest advantage is the 3 degrees less force pointing down into the water. Our conclusion was that we were putting more power into the water compared to regular blades at the same oarlock angle.
What were the reactions or responses of others when you were considering the design?
We train at a local club where people leave us to our madness. The most comments were about Wards speed increase during steady-state and the foil sound they made if you caught them right. They quickly got the nickname "Randyflaps".
What performance attributes convinced you to persevere or commit to the design for the European Championships?
It improved Ward's speed, that's all I needed to know. We were willing to take the risk, for us qualifying was an all-or-nothing scenario.
What have been the responses from others seeing you using the foil?
People are interested but applying the foils to the blades seems to be a bottleneck. Once we painted the foils in red for our national colours they weren't as noticeable.
How did the foil assist your rowing?
Especially during powerful pieces of rowing the extra grip around the catch gives a lot of extra possibility for speed increase.
What advice would you give to others considering the foil?
Use screws and don't only use glue, the foils don't float. Leave the rigging as-is, the foils might feel a little heavier to start with but in our experience that's mainly something you have to solve through technique. We row 289-88 159 in our double. It's especially effective for rowers with a large reach in the front of the stroke. Don't be afraid of waves, they take some getting used to but at higher speeds won't hinder too much.
Scientifically theorizing… how do you think the foil is affecting the movement of the oar/boat through the water?
Mainly because the force vector is more horizontal as rowing with 0 or 1-degree is made possible and therefore more effective. I also speculate that the lift around the catch is much greater because very little water flows over the top of the blade.
How do you conceptually visualize the movement of water (hydrodynamics) around foil … or what is the relationship between water/foil/blade?
I doubt there is a lot of linear flow in use of a rowing blade in practice. The turbulent water seems to be "gripped" better with foils. Another idea I had is that the increase in "grip" could be entirely due to trapped water creating a stronger hydrofoil effect that is prevalent around the sharp angles of the catch.
As an innovator and an adoptor of an innovation, what barriers do you recognize as inhibiting innovation in rowing?
As with many traditional – equipment heavy – sports introducing innovations is very complicated and hard. Adopting foils with a crew makes it that you can no longer row with normal oars in that boat and if you do have mechanical failures, the chance of which is higher than with tradition oars, you're unlikely to find spares. Compare it to if you'd use a disc-break roadbike in any big bike race 10 years ago. If you'd flat, you'd be buggered. If the concept gains traction, maybe by making the product so that boats would still be usable with regular oars, it becomes more likely to be adopted and will likely see "copies" made from them by leading oar brands concept2 and Crocker.
How do you see innovation could be developed in rowing?
2k rowing is a high investment sport, stakes are high and teams will work to make sure that risks are minimised. A boatbuilder might introduce a new shell, but you'll always see that "pushed" on the top crews initially before it full breaks through. Even then there are a lot of examples of it failing, the last being the NED m4x in Rotterdam in 2019 using a new shell made by Filippi comparable to its women's line of boat. The crew didn't like it and no new crews are using it a year later. However, Coastal rowing is a new sport. It has a much lower investment and therefore a lower amount of risk avoidance, making it an interesting breeding ground for rowing innovation. I think it could be compared to mountainbiking for the road-cycling sport. Mounatinbikes have historically seen much much more innovation and progress which has trickled down into road bikes later down the line. Examples are compact frame geometry and disk brakes to name a few.
What are some previous or innovations which have most interested you in rowing, or in other sports?
To some extent I'm a traditionalist. I love a nice clean boat and I'm very attentive to my own rowing style. Innovations in the ergonomics and ease of rowing in certain rowing shells is my biggest interest. In the end it's about who can make the boat go fastest. If you have a very hard to row boat with high efficiency you might not win from someone who can put down the most power into the water.