Who else are using Randall Foils and what are they saying?
Martino Goretti – "They (Italian Rowing Federation) were not sure to send me to the World Championships, so 10 days before the first race they made me do a trial. Everyone was saying "You're crazy! No one has ever used [the foil]," but after 300m the race was finished. I mean, I had a lot more speed." Martino Goretti 2019
"I think that is simple, download on worldrowing the GPS of the European Championship and the GPS of World Championships, and use the VIDEO of the 2 finals to see the difference, what is CLEAR is the start phase and the use of my upper body, at the Europeans, was not effective and the blade was going to deep, especially in the 2nd 1/2. I think that if anyone will see the races, it IS CLEAR the effect of the FOILS on my rowing". – Martino Goretti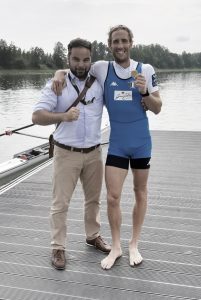 Alastair Isherwood – I have used them for about 18 months and there is no question they are faster but you do need to be fitter to row with them because of the reduced catch slip and associated increase in effective stroke length. THey are also faster because you have less bad strokes so are more consistent over a race distance. You are also faster because there is less effort modulting blade depth in the water, effort that can be redirected into boat speed. You do have to be able to balance a boat and row without your blades dragging on the water on the recover (if you can't do this then get that right before you worry abour foils). I am not going to put numbers on it because it is not necessary to do so as it is my personal feeling.  The smallest puff of wind makes a significant difference to boat speed and it is impossible to control these variables in a outdoor sport.  All I can say is that I can rate higher and take less bad strokes because of the foils. I also find that because I spend less time modulating the blade through the stroke I am more relaxed in the shoulders and my rate of fatigue is reduced which results in less bad strokes and an increased ability to maintain speed.  My personal experience is that they make me faster, I row better and I take less bad strokes.  I would encourage anyone that is interested in improving to give them a try and decide for themselves if they help.  They are no silver bullet, if you are carrying 5kgs too many and you haven't done the training then you are still going to be slow.  They are for the people that are fit, train consistently and are looking for a way to go faster on a consistent basis.  They are for those that want to embrace innovation in rowing just as any cyclist will try a wheel that purports to be faster, any rower should see if the foils are for them.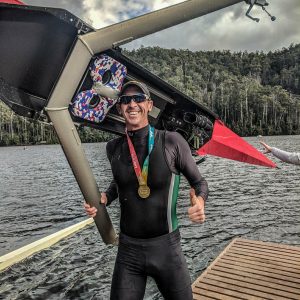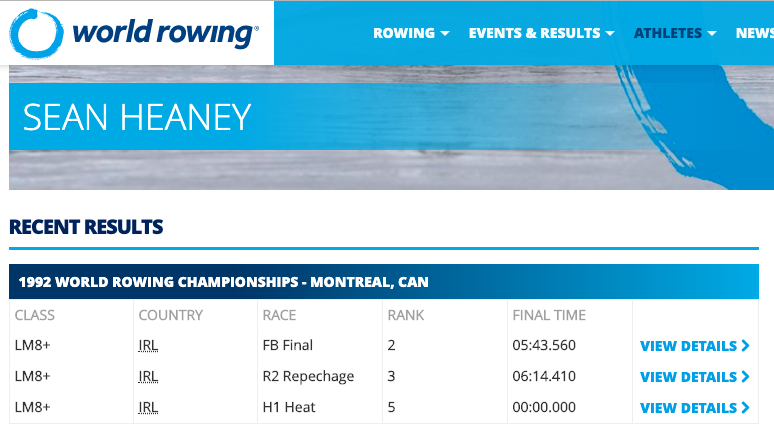 Berthold Weitkemper – I have been rowing in Linz 4 weeks before (won a silver medal at austrian open championships / masters D). The conditions were quite similar, no wind or little crosswind… I was excited to watch the LW men 1X and watched all of Gorettis races at the WRC. In his qualification races / quarter- and semi-final he sometimes had up to 3 or 4 lenghts to his opponents – there were oceans of clean water. At the decisive moments he had more than a 5% margin – pretty sure! There simply was no need to build up a more comfortable lead at the finish – in contrary, this would have been silly before the final. In the LW 1x he dominated the world campionships like no other participant in other boat-classes. That was impressive. Of what use should it have been to win with more than 3 seconds? To humiliate his opponents?
This weekend I won the famous "Grüner Moselpokal" regatta, a 4k race, rowing with Randall-Foils. There was strong crosswinds and it was difficult to generate clean strokes. The foils helped me to manage a clean catch every stroke and to find my rythm quickly. Passing the turning point and during last 2k upstream and headwind I had to work pretty hard…like Goretti said in that interview Carol mentioned: "if you want to be faster you´ve to feel it harder". I could overtake one rival and at the end finished with 1:10 difference to my next opponent…17:35…pretty close to some 2X masters B. Not quite sure about the science behind the foils, and I´d like to talk to Volker Nolte, who arrived from Canada…but Volker surely liked more to row his eight with former olympic champion Ansgar Wessling ;-). Sometimes it´s very satisfying just to row and enjoy good equipment!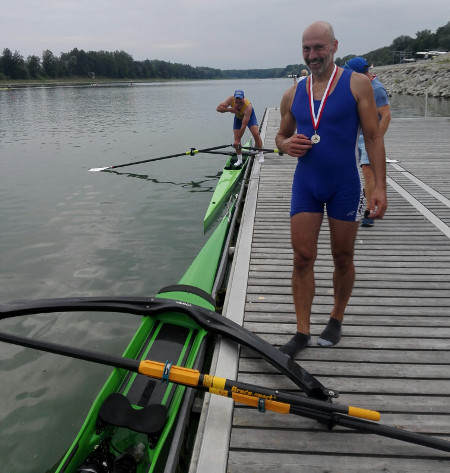 Bob Symonds – I have been testing RANDALLfoils since the summer of 2018. During this time, I have rowed over 2000 km with the foils and used them in 5 head-race regattas, 4 sprint-race regattas and in one marathon (Boston Rowing Marathon). While I have documented performance gains of the foils in sprint races (https://hydrofoiloar.blogspot.com/2019/06/27000km-on-clock-bob-symonds.html), measuring performance gains in longer races has remained elusive until now.
I finally had the chance to test the performance of the foils in my single during the 2019 Head of the Hooch. Between 2015 and 2019, I have competed in the Men's Lightweight 1x (55+) event every year, although the event was shortened in 2018 due to conditions. In all other years, this event is a 5000 m downstream course with variable current and wind conditions. While raw times vary with current and wind, I have had the benefit of competing against 3 of the same competitors every year.
In 2019, I had the second-fastest raw time in this event, which is by far my best finish place in this event since I first rowed the event in 2015 (see Table of results). But did the foils make me faster? To answer this question, I compared my raw times against the three other rowers mentioned above (see chart). Rower A always gets the best raw time; he is one of the best >60 lightweight male scullers in North America. Rower B generally gets the second-best raw time, although this dropped to third (behind me) in 2019; he is an experienced rower and very consistent. In contrast, Rower C improved significantly from 2015 to 2017. Between 2015 and 2017, I was generally 36.8 to 58.0 seconds behind Rower A and 15.0 to 25.1 seconds behind Rower B. In 2017, I was 6.1 seconds behind Rower C. But between 2017 and 2019, I gained between 27.8 and 35.5 seconds on these three rowers. I attribute this 2.4% to 3.0% speed increase almost entirely to the foils. It is certainly not due to an increase in my fitness as my best 5K erg times have remained relatively constant since 2016 (19:12.7 in 2019, 19:17.3 in 2018, 19:19.6 in 2017, 19:19.5 in 2016). Your mileage with foils might vary, but they clearly help me a lot.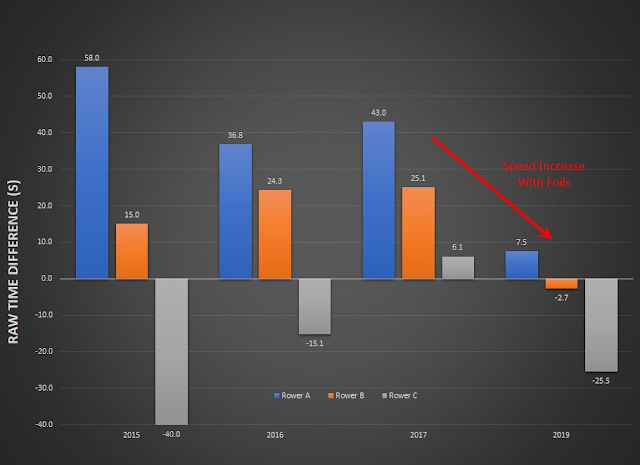 Karen Symonds – At the 2018 Head of the Hooch in Chattanooga, TN, one of the premier regattas in the world; RANDALLfoils allowed me to medal in my women's 1x. On my way to the start line, a male single sculler asked me how I liked my Randall Foils, my response, love them, I never pull deep. Also, I sat for a while, blades squared, hands off oars to prepare myself for racing, I kind of think it freaked out my competitors, especially in those conditions. . Lastly, I used to hate racing starts, and yes, I had my doubts when first rowing with the foils, now, I don't even think about the start anymore. I think they are a game changer. Thank you, Ian, for developing such a great tool that makes my competition sweat. " Clearwater KS, USA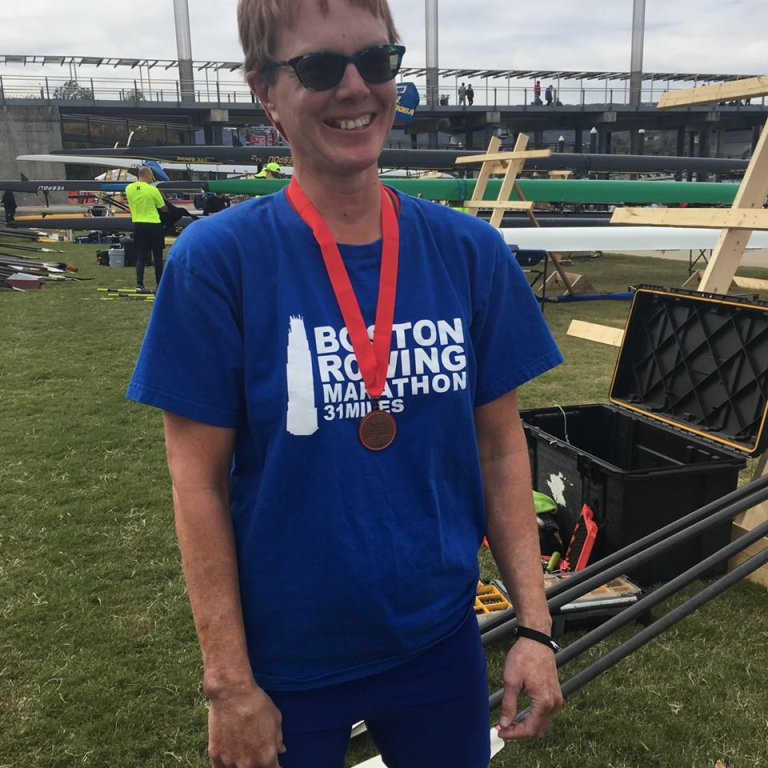 David Harralson – I row the pair.  Earlier this year, I saw an article about RANDALLfoils, which stated they were suitable for C2 and Croker oars.  We use special order Braca sweep oars for the pair.  I emailed Ian to ask if the foils were compatible with Braca oars.  He emailed me a set to evaluate. We are a FISA J class pair (boat age 81). The first time we tried them was after a long primary practice.  We started with a pair of oars without foils.  At a 30 stroke rate we we were able to do 2:22 split.  For reference, at Bled, the winning split was a 2:23. Our coach came over with the pair of oars with foils and we changed.  The first strokes were interesting, it felt heavier at the release, but I adapted quickly.  The pieces were at 30 again, but I was so tired it took awhile to get to 30.  The splits were at 2:15, quite pleasing for a first effort. The next week, again we had a long practice before testing. we did back and forth rows.  Unfortunately, our racing pair was not available, and we had to settle for an old, Chinese heavyweight pair (we are both lightweights).  Without foils, it averaged 2:22 with a best split reading of 2:15.  Again we changed oars to the ones with foils.  The pieces averaged 2:12 with a best of 2:09.  Again promising.  See video at the end. https://drive.google.com/file/d/1WJTt4DqIZv3Ye6Z70n2msyQqNDuBlYwB/view
I am partially disabled and we are not allowed to go out without a coach in attendance.  We had four practices for National Championships. For the third one, we had some race start practice.  Here is a video at the end.  38 to start, settle to 28.  2:15 after the 5 start and high 10.
https://www.facebook.com/groups/306806859494187/permalink/1028655373975995/?hc_location=ufi
If you look at my Facebook page (https://www.facebook.com/david.harralson) you will notice I row with a noticeable stern splash at the catch.  Same at WRMR.  In the videos, the oar is just at the surface and there is no stern splash, even at full pressure on the start strokes. The following week we had a full race length simulation.  Start at 42, settle to 30, last 200 meters at 36-38.  2:20 average split. Gold medal at the Master's National Championships. My pair partner (Don) is primarily a sculler.  Ian shipped two sets of sculling foils for us to test.  I have used them several times.  Other than being careful to not let the edge of the foil catch the water, they seem fine.  Since I have been in a quad, I could not get any comparative times.  Don has used them several times, but is still getting used to them, with 1,000 meter times close to foil and non-foil. Nevertheless, he took them up to Lake Merritt and got two gold medals, both lightweight and heavyweight K 1x. I believe we are the first rowers to use the foils at a National Championship level.  Three races, three golds.  Not too bad for a first time effort. The oars are now approved for Henly, are legal under USRowing regulations, and have been approved by FISA. For sweep oars, our coach had us use two clams instead of the one we normally use.  In the subsequent months, we will experiment with different spans, oar lengths and collar positions and clams with and without foils to see what works the best. But, it seem at worst the foils will not slow us down, it appears our rowing form adapts well to using the foils.  I see no reason an elite level rower could not take advantage of the features offered by the foils.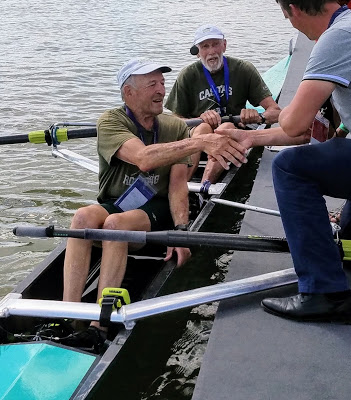 Chris Lloyd  – I am an E masters rower and have its less than four and a half years since my first Learn to Row. I have been fortunate to have dedicated and enthusiastic coaches over that period – especially Nancy Churchill, Director of Master Rowing WA, for the past two years.
My main motivation for trying the RANDALLfoils was the awareness that my bow blade was too deep during my drive, and although I had improved things to some extent it was still an ongoing problem. They solved the problem almost straight away, and I am hopeful now that I am developing muscle memory so that if I do have to use a set of oars without foils then I should still have the blades in a good position. I am looking forward to seeing my data from the NK Empower Oarlock when I try that with my oars & foils in the coming weeks, as I suspect that the slip figures should improve. Subjectively I feel more loaded on the drive with the foils on ; but it will be nice to have some objective data.
So how did my races go? I was happy with the majority of my rows. There was a firm headwind that got stronger and swung around a bit as the morning went on, but I didn't feel that the foils were affected by the wind at all. I was pleased with my first race (C1x) and it was the first time I have held my course in the middle of the lane for an entire race. I credited that to the foils and the even blade depths, so that was a bonus. Second race (E1x) wasn't as good but by then the wind had picked up and was blowing more diagonally. The third race was a C2x and went well. By that stage was a bit tired and had the occasional false stroke but I found with light hands the blades with the foils tended to correct themselves without too much trouble. Overall I was really pleased with the foils, and will continue trialing them over winter. Bumbury RC, Western Australia.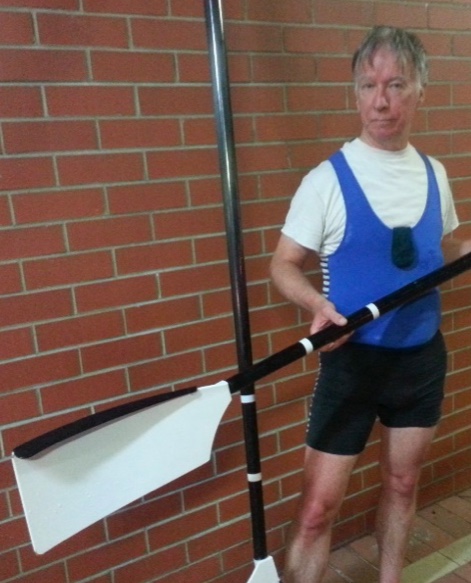 Leon Jones – Where I have really noticed the RANDALLfoils is in my single. I am not missing water, the blades lock on immediately, giving me the confidence that the oars are ready for immediate pressure. I also seem to get a little more "send" at the release."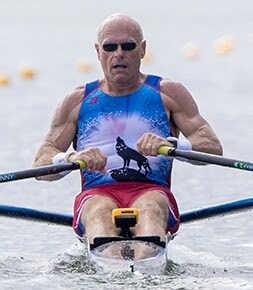 Cody Ellem – Just an update on my Randall Foils for those who are interested. I've been using them for a week now and I definitely feel comfortable with them and I feel as so my gearing is on point. I'll do my best to describe what I'm experiencing in the boat as well as the information I'm getting from them. So far the numbers are looking good this is two curves from this morning and two from Janurary just before the state champs when I was at my peak but the conditions were similar. At the catch the engagement is a lot quicker and the boat is not decelerating as much as without them, this would be because of the quicker engagement the boat spends less time being checked. The boat is running further and faster throughout the stroke. Around 1mps faster at 2 spm less than without and this is significant because the blades are shorter. Normally the shorter the blade length the spm and voice versa that's traditional gearing. The boat is running around 2 meters longer then without foils each stroke. So that's the numbers now for the feeling. The boat's feeling like magic, it's just signing with each stroke. This week every session has felt awesome and my coach has notice a huge advancement in my efficiency and how clean my stroke is with the foils. I feel that these will make an impact in lightweight, women's and masters rowing where technique is hugely important. The heavyweight men can goon their way down the course and technique can be an afterthought to brute force so these might have less of an impact. They won't make a masters rower an Olympian but they will put them at the top of their category. You still need to work hard but these get more out of the hard work. And I've spent more on sunglasses for "Free Speed".
See also blog post from Cody here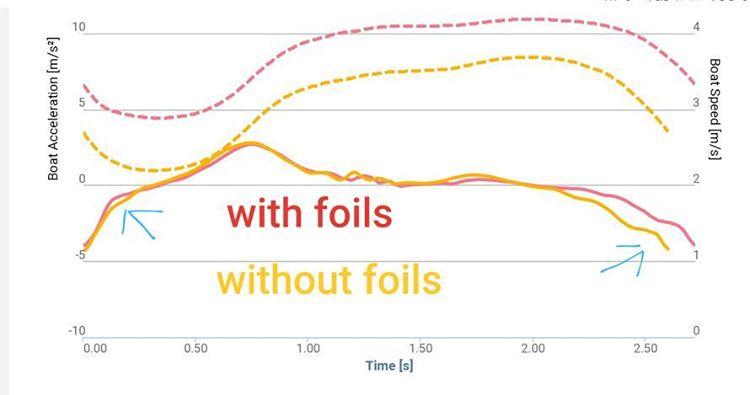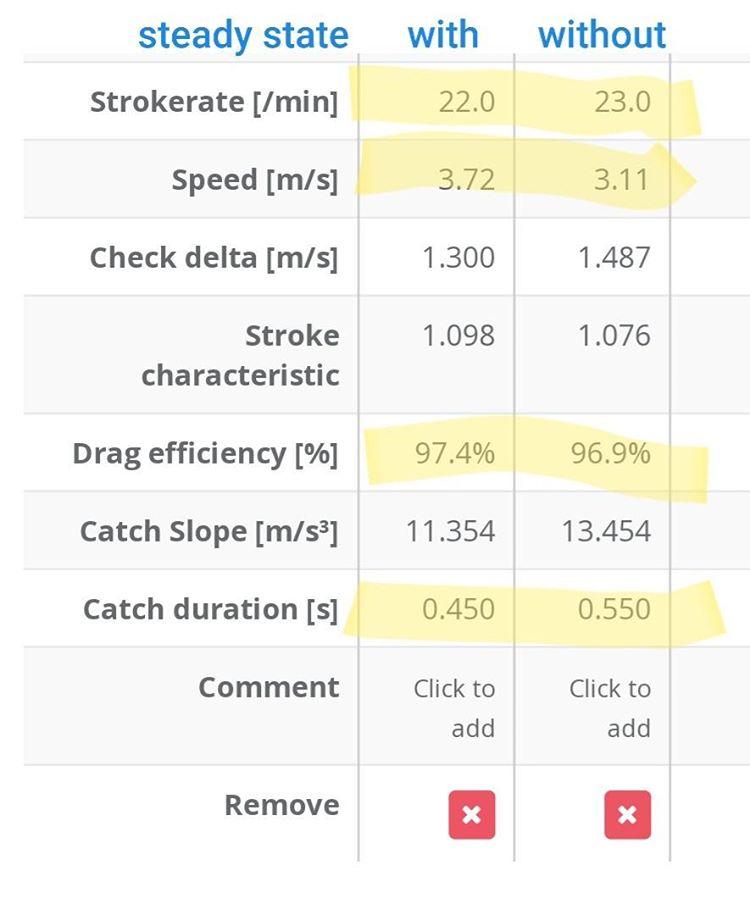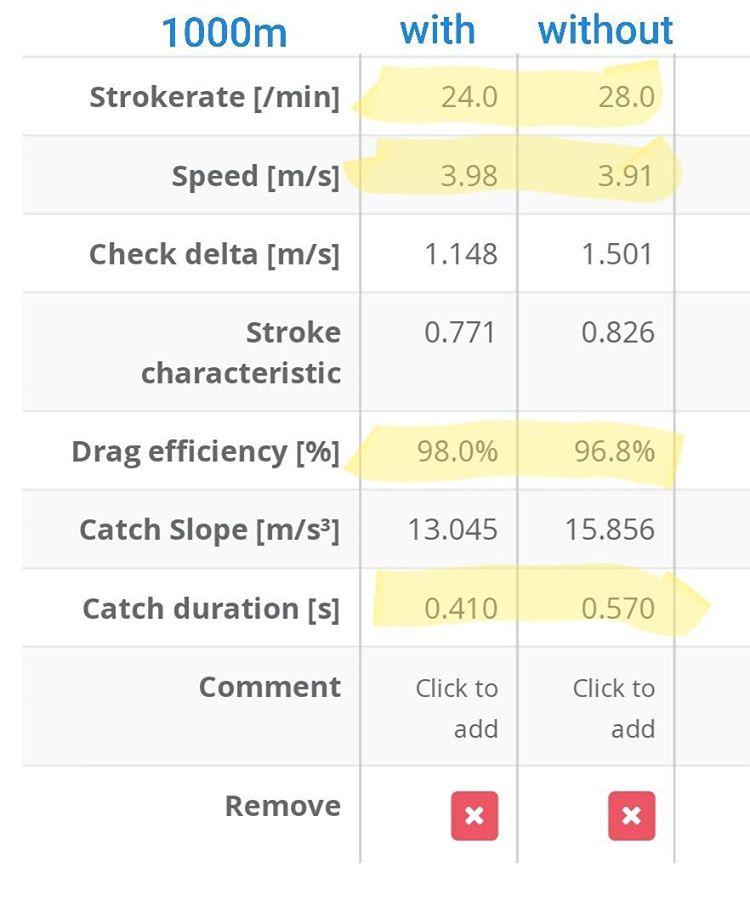 Platypus – To all you doubters and hecklers out there that need scientific evidence before you get on-board with a new product: I've been using Randall Foils with Braca-Sport oars for the past month and are 100% certain that they offer at least one advantage over oars without them. STABILITY. I don't give a rat about time trials, I know when I feel so much more stable at the catch. The foils have completely transformed the stability of the boat for me, particularly when sculling in boat wash or rough water. Some people might say that the foil creates more wind resistance. Sure that might be true, but the stability and confidence that you gain in rough water to me kills any negative wind drag effect. Furthermore, I've seen novice scullers being able to sit at the catch with blades squared and buried, for the very first time with Randall Foils. Then when they change back to standard blades they look so nervous and unbalanced and can't do that. Therefore, from what I've experienced and seen, Randall Foils definitely offer more boat stability and go a long way to help novices overcome fear of the water. As for scientific time trials for more boat speed: Don't know and DON"T CARE. Sculling well has a lot to do with stability and confidence . Randall Foils offer that.

Rich Kessor (Montgomery Bell Acdemy) – I heard about the foils around the time of the RHR last summer. Once they were FISA approved, I thought why not give them a shot. Like Steven M-M, I am not a spring chicken. I began my racing career with macons and ended it being one of the very few teams using "hatchets." Since then, I have been coaching. Like anyone who has been in the game for a while, I have seen a lot "breakthroughs" come and go. I am not one to jump on a bandwagon or try a new technique just because team X is winning with it. As I mentioned in my talk with Aram, I am at the beginning of my 3rd year with my current program. Of the 48 boys who rowed this past fall, 41 are 1st or 2nd year rowers. There are A LOT of technical issues. I looked at the foils and thought: "If they fix the digging problem, that's one less headache." Well, they did ESPECIALLY in sculling. I bought the program's first 2x/-s and just started teaching sculling this past summer. All of the boys are novice scullers. I noticed the proper depth of the oar (proper according to the technique that I coach and rig for).
The boys noticed the more "solid" catch. They felt a stability at the front end that they hadn't before. This let them relax, jump on the legs and not worry about having a "bad stroke." Did they go faster? Yes. Was it 5%, or 3%, or 7%? Does it matter? I have seen greater percentage gains than the 5% in some boats simply because they rowed much better because they were more comfortable. These things aren't like pontoons that Rowing mentioned. Pontoons cause drag and will eventually be more of a detriment than a benefit. I have not seen more blade splash on the recovery in rough conditions with the foils. I have not seen sloppier finishes with them either. It makes the rower bury the oar precisely every time. Isn't reducing "the risk of bad technique" the reason for the squared faces on the C2 oarlocks and sleeves? The oarlock on the wooden Pocock and the rubber "sleeve" on the wooden oar that I learned to row with were not as effective at preventing us from catching "off square" as the new ones. The less time that I have to spend correcting technique, the more time I have to build speed. 
I will also concede that the foils may not be for every technique (the pro-looming crowd need not apply). The same can be said for Fat2's or Smoothie Plains. If your technique (and training) emphasizes the back end of the stroke and you rig with shorter catch angles, than the Fat2 or Smoothie Vortex wouldn't be the type of blade that you would want. Those are designed to be more effective at longer catch angles. Unless everyone starts rowing with the exact same technique, I doubt we will ever see a completely uniform boat/oar set up. However during the drive phase the foils have the effect of pushing the blades out of the water." twillsallen, I have been coaching with the foils on the oars since last August. I have never seen this. Nor have I heard any of the boys say this. In fact, this just does not make sense. The oars are given positive pitch (sternward) to keep the spoon at the desired depth during the drive. 4 degrees is just what became "standard" when C2 started making the pitch insert oarlocks in the early to mid 90's. 4 degrees was chosen because it is the midpoint of settings between 1 and 7. With a lower pitch, more of the applied force acts in the horizontal plane than the vertical. However, it takes much more skill to maintain the proper blade depth (for whatever the desired technique/depth is). I don't know how much the current international coaches adjust their rigging to fit the skill of the athletes. But, I know in the past it was not uncommon for some of the most technically skilled rowers to go down the course with 1 or 2 degrees pitch. Also, how common do you think it is for someone to rig with lateral pitch? If they are rowing a Vespoli, they have none. The riggers/pins are set to 0 degrees all around. All the lateral pitch does is give you more at the catch, less at the finish. It helps prevent digging at insertion while giving you a little more efficiency towards the finish. Because the foils keep the blade at the depth for which I coach, I am playing with 2 degrees pitch for my more experienced rowers. I don't have to worry about the digging the oar too deeply and having a sloppy extraction. They have to simply drop the spoon in and drive. 
As for the potential mishaps on the recovery, I witnessed the opposite first hand. If you carry a non-foiled blade close to the water, there is a 0.5cm wide plane hovering perilously close to danger. A little laziness in the hands and that plane cuts into the water and viola, the rower crabs. The foil makes that plane about 2cm wide. That is much more difficult to force into the water. If I could find a video of it, I would post it. But, during the final 250 of the semi-finals in the Freshman 8 at SRAA's, my 3 seat over-feathered a stroke as they were sprinting in a fight for 3rd, and the last slot in the final. I saw the splash of spoon hitting the water and was waiting for the inevitable crab that follows. Instead, the spoon bounced a bit into the air, almost like a ricochet. The boy missed the next stroke or two while he re-gripped the oar. But, they survived and made the final. Does it matter if the elites adopt them? Are we executing the stroke with the technical efficiency of elite rowers? In 26 years of coaching, I have come across very few rowers (high school, college, or masters) who are beautiful technical rowers. I looked at the foils as something that might help my boys row cleaner and help them go faster. They have.